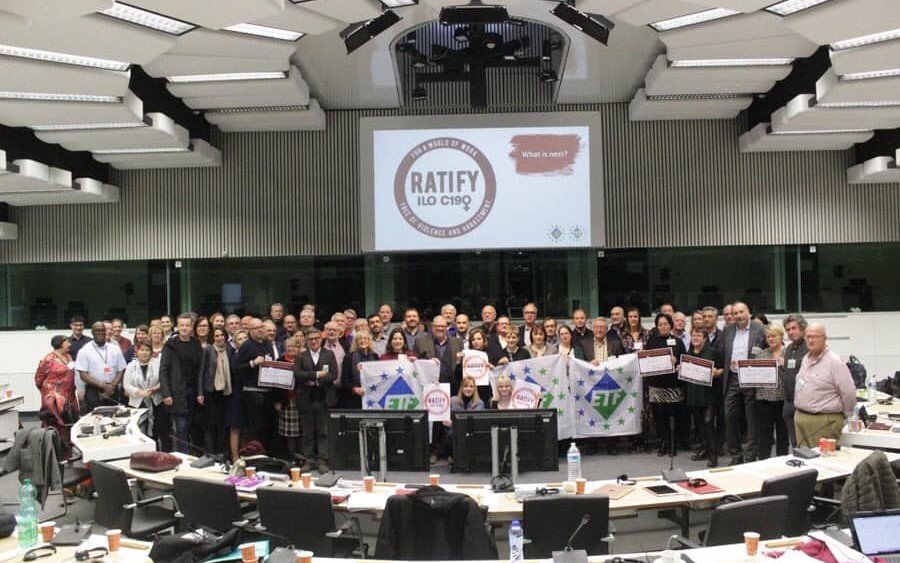 RATIFY C190 FOR A WORLD OF WORK FREE FROM VIOLENCE AND HARASSMENT
1. WHAT IS C190?
Workers, unions, governments and employers made history by adopting new ILO Convention 190 on violence and harassment in June 2019.
C190 is the first ever international labour standard that sets a clear framework to end violence and harassment at work. The right to dignity and respect, and the right to work free from violence and harassment, is a universal human right, that is now clearly voiced in an international treaty.
2.WHY IS C190 IMPORTANT FOR TRANSPORT WORKERS?
Violence and harassment is a significant issue for all transport workers
Transport is recognised in C190 as one of the sectors that is more vulnerable to violence and harassment
The ILO has found many gaps in legal protections for workers most exposed to violence that C190 will address
3.WHAT HAPPENS WHEN GOVERNMENTS RATIFY C190?
Governments that ratify C190 will be required to put in place the necessary laws and policy measures to prevent and address violence and harassment in the world of work.
4.WHAT DOES C190 COVER?
As we know the line between violence and harassment is often blurred and its impacts can also be subjective.
C190 takes a practical approach and defines violence and harassment as "a range of unacceptable behaviours and practices" that "aim at, result in, or are likely to result in physical, psychological, sexual or economic harm". It also recognizes and defines the specificities of gender-based violence and harassment.
C190 makes it clear that the world of work goes beyond the physical workplace and includes for example work-related communications, sanitary facilities and the commute to and from work.
It requires action to mitigate the impact of domestic violence in the world of work.
5.CONVENTION 190 LEAVES NO ONE BEHIND
C190 covers all workers irrespective of their contractual status – including job seekers, volunteers, interns and apprentices.
It applies to the public and private sectors, the formal and informal economy. It also accounts for violence and harassment involving third parties, such as clients, customers, or service providers.
6.WHAT DOES C190 MEAN FOR TRANSPORT UNIONS?
C190 provides a foundation for trade unions and other stakeholders to address violence and harassment in the world of work.
Workers and their unions have an important role to play to make sure the Convention is ratified and becomes part of national laws.
7.WHY IS C190 IMPORTANT FOR WOMEN IN TRANSPORT?
ITF Women is focusing its work in the transport sector on two key priorities:
Ending violence against women transport workers
Ending gender-based occupational segregation.
C190 acknowledges that gender-based violence and harassment disproportionately affects women and girls, and recognizes that tackling the underlying causes and risk factors, including gender stereotypes, multiple and intersecting forms of discrimination, and unequal gender-based power relations, is essential to ending violence and harassment in the world of work.
8.WHAT CAN UNIONS DO?
Educate, agitate and organise their members in support of C190
Campaign nationally and internationally for the ratification of C190
Pressure governments to make C190 part of their national laws
Negotiate with employers to integrate C190 language in workplace agreements
Activate members around the issue to end violence and harassment in the world of work