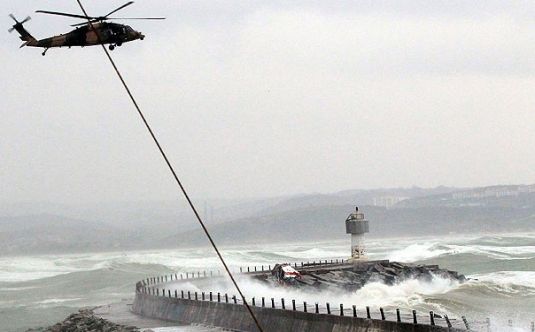 The Volgo Balt 199, which was sailing under the flag of St Kitts and Nevis, sank off Turkey coast in Black Sea on 4 December 2012. The vessel was transporting coal from Russia to the Turkish port of Antalya. There were 12 crewmembers onboard, one of them Russian and remain Ukrainian.
There was a heavy storm in Black Sea when the vessel sank. The ship had sent a distress signal at 07:30 GMT before contact was lost. Only four seafarers were rescued. Search and rescue team could find only one of the bodies. They are still going on searching for bodies in appropriate weather conditions.
It was not only Volgo Balt 199, but also KIYEM-7, which was a speed rescue boat of General Directorate of Coastal Safety, sank off Sile coasts near Istanbul. It sailed to rescue crew of Volgo Balt 199. Unfortunately, it turned over because of huge waves. Master Cemil Ozben and three crewmembers were lost. In addition, a fisher was lost in the waves while he was trying to help. Only one of crew could be rescued. Master Ozben and his team did not hesitate to rescue crew of Volgo Balt 199 although the weather condition was too dangerous.
Substandard ships operating in Black sea and authorities who doesn't take required measures are responsible for this tragic event. Volgo Balt 199 is an old river ship, made in 1976.    How can this kind of a ship operate in Black Sea? More people will die in Black Sea unless we could get rid of this kind of ships.